Netflix first launched in the UK in 2012 and, along with catch-up services like BBC iPlayer and streaming rivals like Amazon Prime, has completely transformed the way we watch television.
The best Netflix series and Original shows to watch right now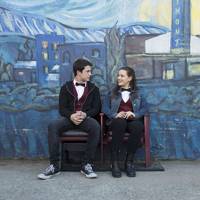 WIRED was invited along to the firm's recent Netflix Labs Day at its Los Gatos headquarters in the heart of Silicon Valley for the global release of Marvel's Iron Fist and to hear more about the innovations that brought it to the screen.
The firm is renowned for its ever-expanding range of original series from political drama House of Cards and 80s sci-fi throwback Stranger Things to 13 Reasons Why – one its latest offerings telling the disturbing story of why a teenaged girl took her own life. Unlike Amazon, Netflix has ditched the expensive process of producing pilot episodes, opting for a more direct approach.
"It really starts with a great idea, and a team wanting to bring it to life," explained Cindy Holland, VP of Originals Series at Netflix. "We use data to work out what's the minimum threshold audience size that we need, in order to justify the economics of a project that we're thinking about".
Marvel's Iron Fist is one of the latest arrivals, with the comic book brand's global clout helping Netflix conquer countries where it's not so well known. It's also the first of Netflix's Marvel series to be shot using Dolby Vision – the audio and video firm Dolby's enhanced version of HDR.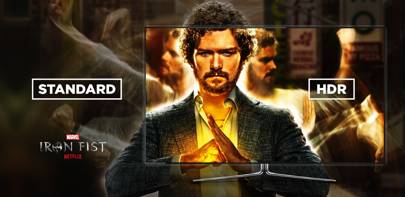 Netflix supports the industry standard version of HDR, along with Dolby Vision. The latter enables frame-by-frame information captured during filming to be preserved as metadata. This is then decoded by Dolby Vision-equipped TVs and translated onto the screen, just how the director intended.
Dolby Vision already appears on several LG TVs, and will soon be added to panels from other major tech firms including Sony and Loewe. What's more, the tech standard is gradually rolling out to smaller screens, with the LG G6 unveiled as the very first smartphone with Dolby Vision earlier this year.
Just as the director intended
"The goal here is to maintain the integrity of the original content," said Tony D'Amore, senior colourist at Encore, the man responsible for tweaking the look of shows like Iron Fist. Encore is part of Deluxe, a film company that provides post-production services for many of the big US networks, including HBO, Showtime and FX. D'Amore gave us a fascinating demo of how he used Dolby Vision-powered software on a BlackMagic colour-correcting console to perfect the hues on Iron Fist.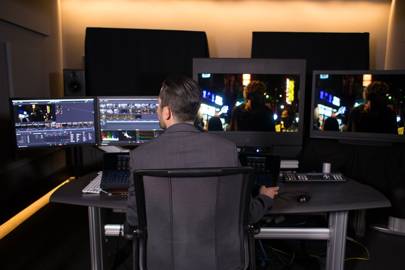 Each of the Marvel shows has its own distinct colour palette from the purple hues of Jessica Jones' Hell's Kitchen and the vintage yellow highlights of Luke Cage's Harlem to the opulent whites and golds of Iron Fist. Though the latter was produced in Dolby Vision from the start, the earlier series have been retroactively remastered.
To answer the question that many Marvel fans have posed, Karim Zreik, senior VP of original programming at Marvel confirmed: "The Marvel cinematic universe is different than the television universe. We will never cross-pollinate. They have their characters, and we have ours." So don't expect to see Daredevil teaming up with Spider-Man anytime soon.
While the HDR-based tech opens up new doors for the creative brains behind these series, it also represents a new challenge for directors, similar to the transition from analogue filming to digital techniques.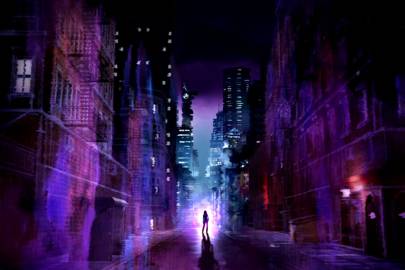 Iron Fist director of photography Manuel Billeter, the man responsible for devising those distinctive colour schemes, said: "Having Dolby Vision HDR at our disposal is a very enticing prospect, and it's exciting to explore. It was a bit of a learning curve as well".
Dolby's aim is a consistent picture – being able to deliver whatever the director had in mind, on any screen size. As well as helping to convey the look the director intended, Dolby Vision also helps companies like Netflix future-proof their content. The enhanced HDR standard goes above and beyond by catering for TVs with a massive 10,000 nits of brightness. Currently, top-of-the-range TVs only have around 4,000 nits, with most sets limited to 1,000. Furtehrmore, Dolby Vision has been developed to stream more smoothly than conventional HDR by using about 10 per cent less data.
Just like its key streaming rival, Amazon, which also uses HDR and Dolby Vision, Netflix is also producing 4K content to further future proof its shows. However, unlike Amazon Prime viewers, Netflix subscribers have to pay extra to watch in 4K.
Measuring viewer reactions
Dolby's TV innovation doesn't stop there. We were given a rare glimpse inside the firm's biophysical lab, located at its headquarters in San Francisco. Here, researchers scientifically monitor viewer reactions to what they're watching to give them an insight into how we experience TV.
To do this, volunteers are fitted with EEG sensors to measure electrical activity in the brain, along with heart rate, pulse and sweat-based stress trackers, while a thermal imaging camera is used to detect facial temperature changes which can indicate stress, engagement or arousal.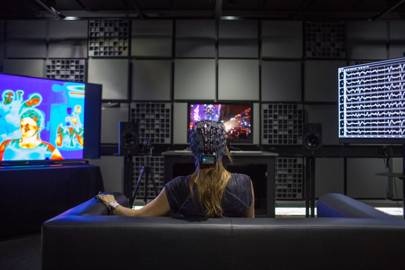 The idea is to detect physiological changes in the body resulting from what's seen on screen, such as an image of a raging fire causing a rise in facial temperature, just as it would if the viewer was in front of a real fire.
"We want to understand how users respond to content without asking them," said Poppy Crum, chief scientist at Dolby Labs. "Dolby Vision is absolutely transformative in the physiological responses that we see. It has huge impact on how engaged people are with the content".
Dolby uses the data to create algorithms that help it to produce immersive technologies and in future, it could even be used to transform how TV programmes are produced.
Going global
The global nature of Netflix – which now streams in 190 countries, with the notable exceptions of China, Crimea, North Korea and Syria – means language presents a huge challenge and the company goes to extraordinary lengths to get it right.
Last month, Iron Fist launched in 20 languages, with 572 "language assets" which include subtitles, dubs, and audio description. To put that in perspective, when Lilyhammer launched in 2012, it had just seven languages and 96 assets. The firm now aims to add two or three new languages every year.
Netflix works directly with the best translators possible and has even developed a unique online test called Hermes to identify them. The test quizzes participants on tricky translations of idiomatic phrases into their target language and will eventually use the metrics gathered to recommend the best subtitler for each specific show.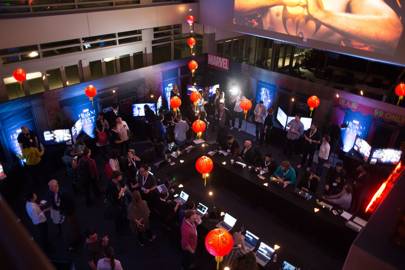 Netflix's director of content localisation and quality control, Denny Sheehan, explains the importance of getting the subtleties of translations spot on, using the Baz Luhrmann-produced hip-hop drama The Get Down as an example.
"The episode titles of The Get Down were actually quotes from Rumi poems so we had to make sure that we actually had the translations of these poems as they originally existed to make sure that we're imparting them correctly," he said.
What's more, Netflix scours Twitter for complaints about its translations, using algorithms to identify and fix them as quickly as possible, sometimes even on the same day. This empathy with global audiences is something that sets Netflix apart from some US-centric tech firms. The Silicon Valley-based company recently announced its first original series to come from Germany, Italy and Spain while Amazon Prime launched its very first German-language series globally last month, dubbed into numerous languages.
Launch night
Once the content is ready, it's pushed out to local servers around the globe during off-peak times, using Netflix's custom-built Open Connect system. The tech can optimise the encoding of the content per shot, rather than per title, so that bandwidth is used as efficiently as possible.
"We want to make buffering a historic relic like where your kids say to you, 'what's buffer?'", said Netflix CEO Reed Hastings.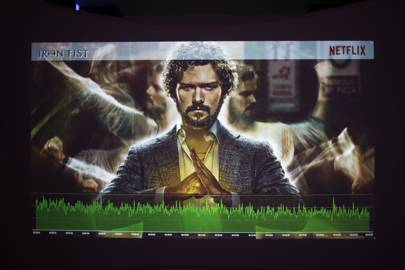 For the midnight (Californian time) launch of Iron Fist, Netflix assembled a mission control-style 'War Room' at its Los Gatos HQ. As the clock counted down the seconds to launch, teams responsible for each area, including mobile and TV, confirmed in turn that they were good to go. As soon as the new series dropped, and Champagne corks were popped, live stats were displayed on screen showing a steadily growing stream of global viewers firing up the first episode. Netflix declined to divulge the exact numbers.
Next-gen television
Having pledged to spend $1billion (£8m) on technology this year – plus a cool $6bn (£4.8bn) on original content – Netflix continues to innovate. A fair slice of this cash goes towards developing the personalisation of its user interface. Earlier this month, it ditched its ambiguous star rating system in favour of a thumbs up or down rating. While many users were under the impression the stars, which had been used since day one, were an average user rating, they were actually tailored to each viewer based on their viewing habits and any ratings they'd given.
Inspired by the matches given on dating sites, the new system gives users a personalised percentage match with each film and TV programme and is designed to be less confusing and more intuitive.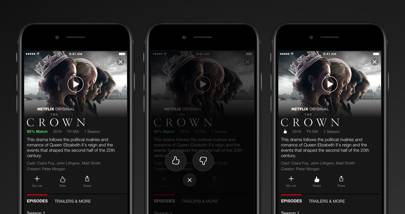 "This is the lingo of the internet now," said Todd Yellin VP of product onnovation at Netflix, adding, "star ratings don't tell the story any more".
To ensure the best viewing experience possible, the firm launched its Netflix Recommended badge for TVs in 2015 and recently revealed that the 2017 lineup would include LG's 4K UHD TVs with WebOS 3.5, the Samsung 7, 8, 9 and Q-Series Smart TVs and Sony's Android panels. To get this badge of distinction, panels must meet a gradually evolving set of criteria including a rapid startup time and the all-important Netflix button on the remote.
The firm is bringing its services to hotels around the world, so subscribers can log into their accounts wherever they are and is also experimenting with a similar service on passenger planes as part of the in-flight entertainment system. Netflix is even experimenting with an interactive, kids' adventure book-style, where viewers get to choose what happens next, though the company seems to be keen to downplay this particular avenue.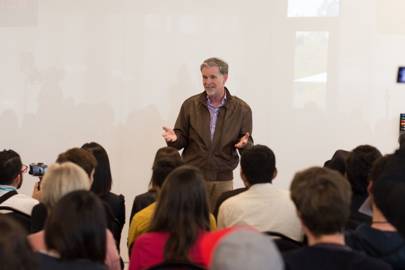 "We'll see how it works," said Netflix boss Reed Hastings, adding, "we're very experimental so if it works well we'll do more. If it doesn't work well, you won't hear about it anymore".
In 2017, The White Helmets became the first Netflix Original to win an Oscar. Nabbing the prize for documentary short, the success of the piece about volunteer rescue workers in Syria shows just how Netflix is stepping up to compete with the traditional broadcasters. With no advertisers to contend with, the firm perhaps has more freedom to innovate to match modern viewing habits.
"We're trying to combine an amazing studio that's producing some of the world's most interesting content, with great technology," concluded Hastings.
Sorgente: Inside Netflix HQ | WIRED UK